maandag, 18 november 2013 11:37
maandag, 18 november 2013 09:28
maandag, 18 november 2013 09:22
zondag, 17 november 2013 20:06
The MU team has been working on our brand new website behind the scenes. Hopefully online somewhere in December
zaterdag, 16 november 2013 21:24
"Ladies with an attitude; fellas that were in the mood."
It's a line of defiance, frivolity and fun, and the opening quote to Michael Griffiths' cabaret show In Vogue: Songs by Madonna.
Appearing for the first time at Adelaide's Feast Festival, the Jersey Boys performer takes on the Queen of Pop's persona and gives you an autobiography of her life through songs in Madge's 30-year music catalogue.
Sitting at a piano, Griffiths reaches for Madonna's diary that is used to record all her thoughts, which he says helps with the writing process.
"Advil, Crest, oh that's a shopping list" he says, before reciting a collection of random Madonna lyrics.
Delving into Madonna's love life, Griffiths intertwines True Blue and Papa Don't Preach to address the marriage of Madonna and her first husband Sean Penn, famous for his temper, and her father's disapproval.
"Sean wanted a clifftop wedding, an outdoor wedding, and impossible to keep the press away wedding," Griffiths said.
"As two helicopters circled and Sean two fired two warning shots at them, I just felt like the luckiest girl in the world."
Once the marriage fizzled in the late 80s and Madonna went on the prowl in a man-eating rage, she realised she wanted a baby more than the man who could give one to her. Enter Lourdes' father Carlos, a "hot latino turkey baster" Madonna found running around Central Park. Playing a melody reminiscent of Coldplay's Clocks, Griffiths sings Substitute for Love, Like a Virgin and Ray of Light.
Griffiths flares the supremacy battle between Madonna and Lady Gaga; he claims Madonna "leased" the dance floor to the Born This Way singer for about a year, before Gaga's recent stint in hospital and noted weight gain.
"The poor thing broke her hip and got fat," he said in a smarmy tone.
With slicked hair, a fitted white shirt, braces and tan shoes, Griffiths looks every part the crooner. Throw in some crossed legs, a limp hand and a flirty look in his eye saying "am I a virgin, or am I a whore?", this show will remind every girl, gay, and closet straight male fan to express themselves.
Just like a prayer, Griffiths takes you there.
FOUR STARS
In Vogue: Songs By Madonna is on until Saturday, November 23, 2013. For more information visit www.feast.org.au
Victorharbortimes
zaterdag, 16 november 2013 21:19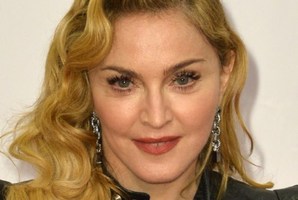 Pop legend Madonna has joined a chorus of international stars in urging the release of 30 Greenpeace crew members jailed after a protest against energy prospecting in the Arctic.
"These 30 people are in prison in Russia for staging a peaceful protest in the Arctic! Let your voice be heard. Let's bring these people home!'' Madonna wrote in a message posted by Greenpeace on Twitter.
She spoke out after former Beatle Paul McCartney published a letter to President Vladimir Putin saying he hoped the activists could be home for Christmas.
The following day, Oscar-winning French actress Marion Cotillard climbed into a cage outside the Louvre in Paris to call for the activists' release, calling their detention "absolutely absurd and crazy".
The activists from Greenpeace's Arctic Sunrise icebreaker are awaiting trial in prisons in Saint Petersburg, where they were moved from the far northern city of Murmansk.
German Chancellor Angela Merkel has already voiced concern over their case while British Prime Minister David Cameron last week urged Putin to treat the so called "Arctic 30" fairly.
Russia's Investigative Committee said last month it was softening the charges against the crew members, who come from 19 different countries (including Australian Colin Russell), from piracy to hooliganism, which carries a maximum sentence of seven years.
But Greenpeace says the piracy charge was never formally lifted.
Madonna has previously used Russian concert performances to speak out on politics.
At a concert in Moscow last year she called for the release of Pussy Riot band member who are now serving a two-year jail term for a protest against Putin.
She also gave fans pink ribbons at a concert in Saint Petersburg to express her opposition to controversial legislation banning "propaganda" of homosexuality to minors.
- AAP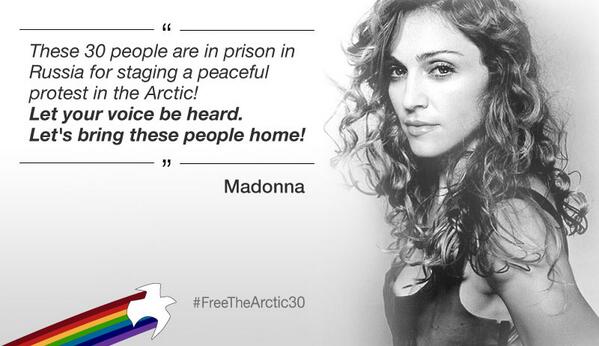 vrijdag, 15 november 2013 22:50
Tijdens de eerste Liveshow van The voice of Holland seizoen 4, zong Bylear Sumter het nummer 'Who's That Girl' van Madonna.
vrijdag, 15 november 2013 20:06
vrijdag, 15 november 2013 18:24
There are no translations available.
Millions have been affected by the destruction of Typhoon #Haiyan in the Philippines. Join the Revolution of Love by donating to @mercycorps: http:///bit.ly/1bkmyBw
There are no translations available.
These 30 people are in prison in Russia for staging a peaceful protest in the Arctic! Let your voice be heard. Let's bring these people home! www.greenpeace.org/freethearctic30
There are no translations available.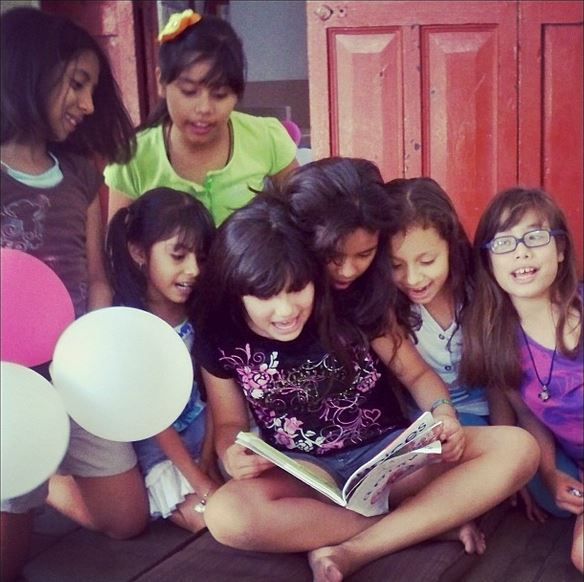 Congrats! @lesmackmp the first to win an artforfreedom.com Grant! He wants to help build a psychology clinic for abused girls at the Orfanatorio de Mazatlan in Mazatlan Mexico, Want to help? Donate to Tres Islas Orphanage Fund. Go to http;//bit.ly/19XrttYD#artforfreedom #rayoflight.org Thank You
Soon, Madonna is releasing a Design Overlay Pack through the Studio App (available on iTunes). This design pack contains over 50 designs people can put on top of their photos. They include quotes, icons, and sayings that she believes in.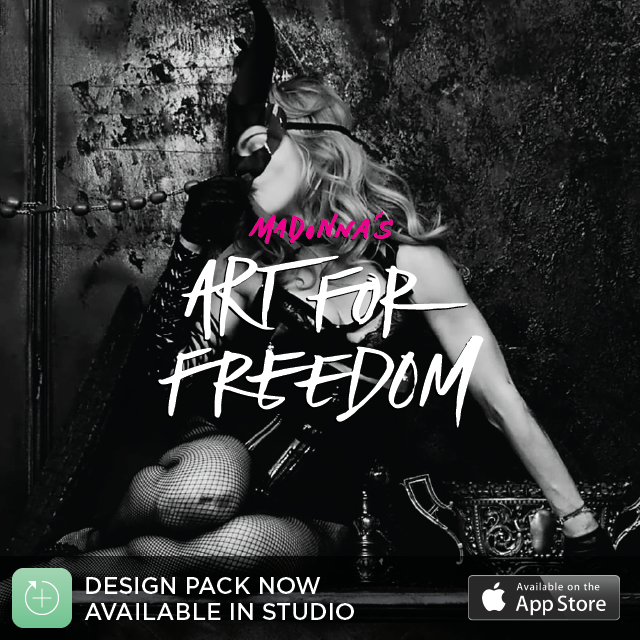 For those unfamiliar with the Studio App... Anyone can add design to their photos from the app, and then post those photos to Instagram, Facebook, Twitter, or save to your camera roll for use. Simple choose a photo, then choose an overlay from any pack (including the Madonna pack), and put it on your photo. You can add as many design overlays as you want on each photo.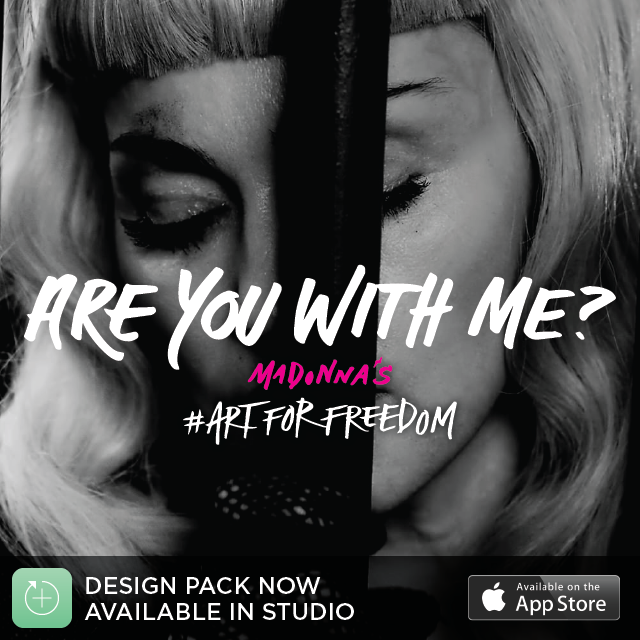 The Museum of Contemporary of Vigo in Spain, will screen #SecretProjectRevolution, created by Madonna and Steven Klein, on Saturday November, 16th at 20.30pm.
The film will be screened outdoors, with free access and Spanish subtitles.
Live Nation Entertainment, the giant concert company that includes Ticketmaster, is in advanced negotiations to buy the management companies behind U2 and Madonna, according to several people with direct knowledge of the talks.
If the deal is consummated, it will further strengthen Live Nation's already deep ties with U2 and Madonna, two of the highest-earning and most durable pop acts of the last 30 years.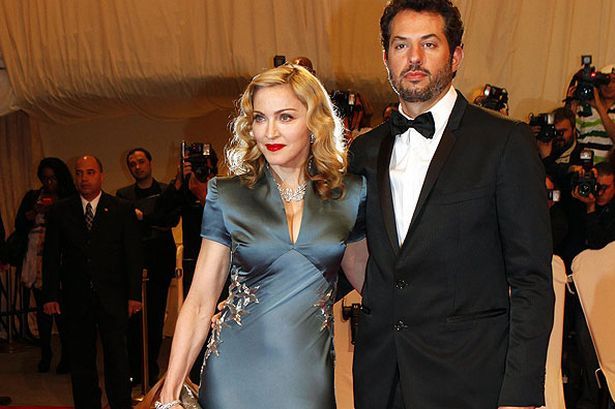 Read more:
<< Start < Vorige 1 2 3 4

5

6 7 8 Volgende > Einde >>


Pagina 5 van 8